I went to bed at about 11:00 last night wondering whether I'd experience any side effects from the Avonex treatment.  I was crossing my fingers for the best (no side effects), but prepared for the worst (spending 24 hours dealing with nausea, fatigue, headache, and fever).
What I actually experienced was somewhere in between.  I spent the night tossing and turning, alternating between thinking it was way too cold and way too hot in the house.  I finally got to sleep around 4:00 and then woke up for good at 10:00 this morning drenched with sweat.  Now, I'm no doctor, but I'm guessing this was the fever they warned me about.
Once I woke up and popped some tylenol for my headache, I was fine, albeit a little tired from my restless night.  I did the Shred DVD and it took a lot out of me today… I was sweating it out like crazy!  I decided to forgo running for the day, which I kind of felt bad about, but I was just so tired after the DVD… I don't know if that was a side effect of the medication or if it was a result of being so restless last night.
On the positive side, I could definitely see some actual results of the Shred today.  I didn't think to weigh or measure myself on Saturday before I started it, so I won't actually know how many pounds/inches I lose, but I was able to see some quantifiable results today in the shirt that I'm wearing.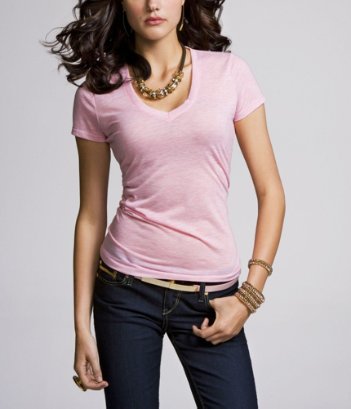 One of my favorite shirts is the Express "Best-Loved Basic Tee," which I have in 10 different colors and patterns.  I got these shirts back in the spring of 2009 and still wear them all the time!  The V-neck on the shirt (and the scoop on its scoop-neck variation) are a little low for school, so at school I wear a bodyshaper under the shirt in order to keep the neckline appropriate.
The New York and Company bodyshaper is the my favorite thing to wear under those Express shirts at work.  They perfectly adjust the neckline to make it school-appropriate.  However, during the past couple of months I've had to start wearing these under the shirts in general in order to smooth out my stomach and back.
Today, I was pleased to put on one of these tops and find that it was loose enough that I didn't need to wear a bodyshaper under it!  I don't know that I've lost inches for certain, but I've definitely smoothed out my back and stomach a little bit.  I'm excited to see what the next 24 days will bring!
How do you judge your results from a workout regimen?  Do you look at your results in terms of pounds, inches, or other criteria?